---
Parking Maps
Work to upgrade streets and essential infrastructure in the Queenstown Town Centre is in full swing. There is a bit of disruption in town right now, including temporary reduction of parking but don't let that stop you coming in to support local businesses. 
If you do need to drive into town, try the Boundary or Church Street carpark or the other privately owned parking facilities. The Church Street carpark also offers free bike parking and E-Bike charging stations. Or save the stress of finding a park every day and consider taking the $2 bus.
---
Carpooling
Thanks to everyone who applied to take part in our Wakatipu carpooling scheme.  All of the permits have now been allocated.
Note: There is currently not a carpooling permit scheme in Wānaka. 
Boundary Street Carpark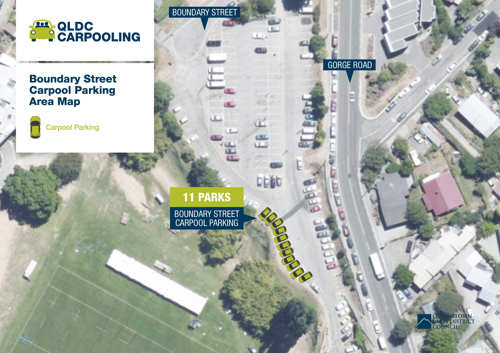 ---
Reasons we issue parking tickets
We issue parking tickets for a range of reasons. Some of the more common reasons include:  
failing to pay for your parking.

overstaying time limits.

unsafe parking.

parking a vehicle in public without a current warrant or registration.
You can download a full list of parking offences below: 
Got a fine? Here's what to do
Choose how to pay
There are a number of options for paying a parking fine.   
Online - see button below.

In person -  we accept cash, eftpos or Visa/Mastercard at our Gorge Road (Queenstown) and Ardmore Street (Wānaka) offices. 

Direct credit  to account number:  02 0948 000 2000 00 - make sure you use the parking ticket number as the reference .
Appeal the fine
If you feel you have received a ticked unfairly, you may choose to appeal it.    Tickets will only be waived with proof of extenuating circumstances, for example a medical emergency or a breakdown.  
If you were ticketed because your car wasn't registered or warranted, and you now have proof that you are, your ticket will be waived.  Please follow the prompts on the waiver request form below. 
What to know before you appeal a ticket
Please have a read of our parking ticket overview guide or if you want to get into the detail check out the parking legislation below.  
The request form will ask you a range of questions depending on the type of parking ticket you received.  If the request is declined, you will be automatically redirected to an online payment page.  If the request requires more investigation it will be sent to our regulatory team to review.  
You will need to provide proof (medical certificate, breakdown proof from the mechanic, current rego/warrant etc.) so please ensure you have these available to upload.
---
Parking Permits
There are a number of parking permits available in the Queenstown Lakes District.  Choose the permit you wish to apply for below and follow the application instructions.  
Before you apply: 
We recommend you read the criteria and process information below: