About the project
The new pump station will take the load off our existing facility at Marine Parade which is currently the only wastewater pump station to serve Queenstown, Fernhill, Sunshine Bay, Gorge Road and Arthurs Point. The current pump station does not have any emergency storage facility and is unable to be taken off line for more than a few minutes for maintenance.
The new pump station at the Recreation Ground will provide emergency storage, additional pumping capacity and a new rising main (pipeline) for wastewater across town. This will provide more resilience to our wastewater network in Queenstown and reduce the likelihood of uncontrolled flows of wastewater into Lake Wakatipu.  
What's the latest?
Since the Recreation Ground Pump Station and Wastewater upgrade project started back in May 2020, we've installed over 1,200 metres of wastewater pipe along Park Street and made great progress on building the new pump station at the Recreation Ground carpark.    
In September 2020 we started the next phase, which involved using a technique called Horizontal Directional Drilling (HDD) to install 870m of wastewater pipe across the town centre.   Unfortunately due to unforeseen ground conditions, the drilling was unsuccessful and we had to change our approach to installing the new pipe.  
From 17 May we'll begin installing 600m of wastewater pipe into open trenches along  Camp and Earl Street and along Marine Parade, connecting to pipe recently installed across a portion of the Queenstown Gardens to Park Street.

Starting Monday 26 July, the team will be moving further down the street, which will mean parking will be restricted at times to accommodate traffic flows along Camp Street and Earl Street during construction.
---
Construction timings and disruptions
The latest stage of work will result in a number of disruptions, including road closures and temporary loss of parking along Camp and Earl Street.   The intention is to complete the
work at the top of Camp Street ahead of the busy ski season.
Please note that we will always maintain pedestrian access to businesses along  Camp Street  while the work is underway.  
The map below illustrates the expected disruption and timings.  This is also available as a PDF below.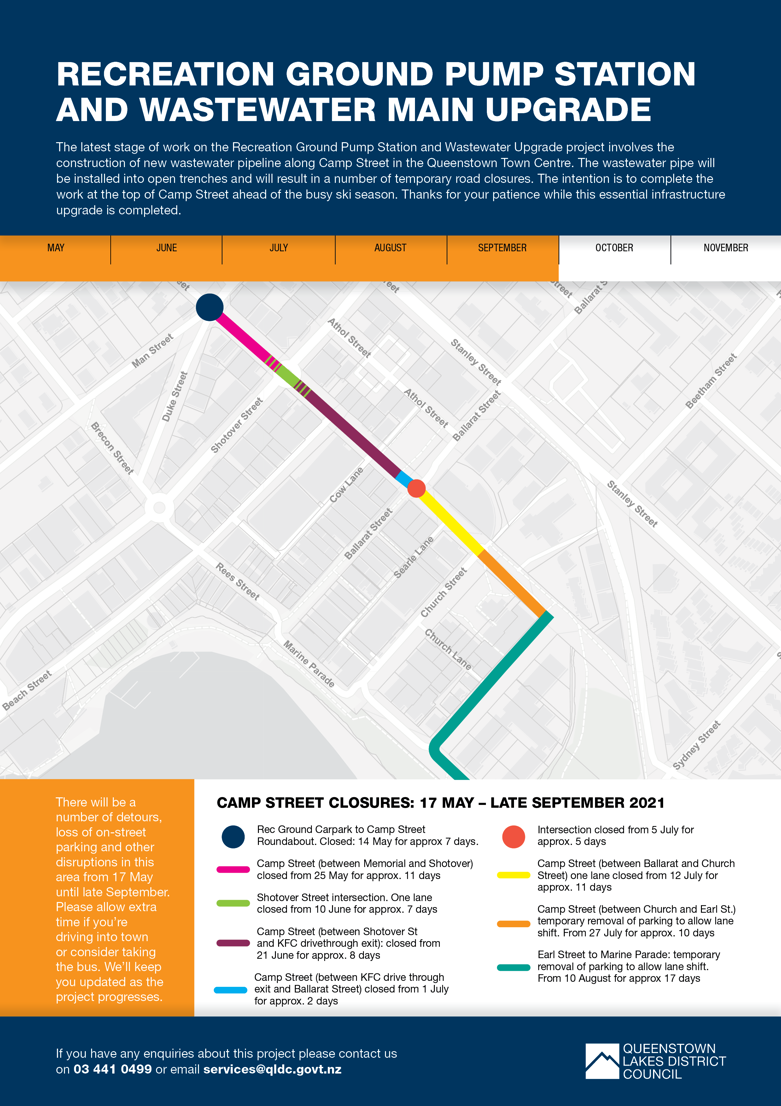 Working with those affected
A huge thank you to all of the residents and businesses near the Recreation Ground and along Park Street.  We have really appreciated your patience so far.  
We acknowledge that the change in approach to open cut trenching will increase the disruption to neighbouring residents and business, including temporary road closure, loss of on-street car parking, changes to access and noise and vibration.  
We'll be putting significant effort into working with those affected to talk through concerns and mitigation efforts. 
We have an open door policy and the contractors will be working hard to maintain a close working relationship with those affected throughout the project.   Please do get in touch if you would like to discuss this project. 
Want more details?
If you need more information or would like to talk to the Project Manager, please get in touch with us on 03 441 0499 or email: services@qldc.govt.nz