Mount Iron Reserve Management Plan
Council has purchased nearly 100 hectares of land around Mount Iron and Little Mount Iron in Wānaka.
Quick links
About the Mount Iron acquisition
Mount Iron is an iconic landmark in the Upper Clutha. Approximately 2km from the town centre, it offers panoramic views of Wānaka and its surrounds, and is arguably one of the most popular walking tracks in the Upper Clutha with over 180,000 visitors heading up the Mount Iron slopes each year.
In December 2021, Queenstown Lakes District Council reached an agreement to purchase nearly 100ha of land around Mount Iron and Little Mount Iron in Wānaka. While there will be no immediate changes to public use, Council plans to work closely with the local community, Iwi and the Department of Conservation on plans for Mount Iron's long-term future, acting as kaitiaki and holding the land as public reserve in perpetuity on its behalf.
---
What's the latest?
Update - Friday 29 September 2023
Share your ideas for our newest Community Reserve!
The Parks team are currently developing a draft Reserve Management Plan (RMP) for Mount Iron Recreation Reserve.
Join the conversation and share your ideas on how you want to use, enjoy, manage and preserve public land on this cherished local landmark now and in the future. Help guide the development of Reserve Management Plan and a vision for how this iconic landscape can be enjoyed by all. To find out more about how to get involved and opportunites to join a community workshop go to letstalk.qldc.govt.nz. Feedback closes on 20 November 2023.
 Update - Tuesday 16 May 2023
Land Information New Zealand (LINZ) has issued a new property title for the 100 hectares of land around Mount Iron and Little Mount Iron in Wānaka, which means this area is now a cherished community asset for the enjoyment of generations of locals and visitors to come.
A ceremony to celebrate our newest community reserve
On Saturday 27 May 2023, local residents, Iwi, the Cleugh family, community groups, Department of Conservation, elected members and Queenstown Lakes District Council staff gathered together at the foot of Mount Iron to celebrate this much-loved landmark becoming our newest community reserve.
---
The Reserve Management Plan process
A Reserve Management Plan (RMP) is a document prepared under the Reserves Act 1977. It sets out a plan for how Council intends to provide for and ensure the use, enjoyment, maintenance, protection, and preservation of a reserve. It details all the rules and regulations to act as a guide for Council officers in making both day-to-day decisions, as well as long-term decisions about how reserves and open spaces under its control are to be used, managed, or developed.
Creation of a Reserve Management Plan for the publicly owned land on Mount Iron and Little Mount Iron is a critical step following its purchase, and will provide ample opportunity for the Upper Clutha community to share how it wants Mount Iron managed in the future.
In September and October 2023, we plan to reach out to groups, organisations, and interested members of the community across Wānaka and the Upper Clutha to hear what they love about Mount Iron, how they'd like to use the area in the future, and what they're keen to protect. These early insights will help guide the development of a RMP and support a shared vision for how this iconic landscape can be enjoyed by all.
---
Public access
Currently all tracks and trails on Mount Iron are under Department of Conservation (DOC) management. They're responsible for keeping these routes maintained. We are continuing investigations with DOC about the possibility of transferring the management of the DOC land (shaded dark green on map) to QLDC.
Existing public access will be maintained on Mount Iron Recreation Reserve while we work to draft and adopt a Reserve Management Plan (RMP) for the site. If you're planning to explore the area, we ask that you please stick to the public walking tracks and take note of signage identifying privately owned property.
Walking tracks from either side of Mount Iron remain open but no new developments will be allowed on the site until the community has had a chance to provide feedback on future use of Mount Iron Recreation Reserve through the RMP process.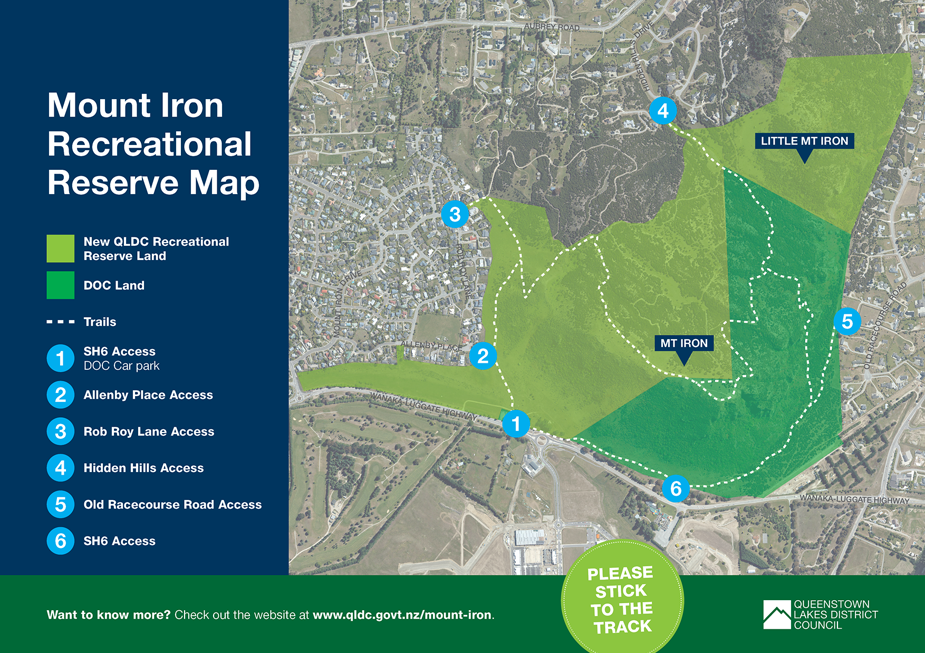 Click here to enlarge the map of land set to become publicly owned in May 2023.
---
Get regular updates
If you'd like to be kept up to date with the latest information on how Council's management plan for Mount Iron is proceeding, we've created a newsletter to share information on the project every six weeks.
Subscribe below to receive this update directly to your inbox!
---
Wildfire risk
Council continues to work with the Mt Iron Wildfire Risk Reduction project, a multi-agency partnership between Fire Emergency New Zealand, Emergency Management Otago, QLDC, Department of Conservation, SCION and the Mt Iron Community Response Group. We hope to share some updates on the project in the near future.
Stay up-to-date
Sign up to our newsletter Scuttlebutt and stay up-to-date with the latest news, events & information in the Queenstown Lakes District.