Work on Stage Three of the Wānaka Lakefront Development Plan will begin on Monday 1 February 2021, and will see the implementation of a number of features between Bullock Creek and Wanaka Marina, including:
Restoration and development of native vegetation - large scale planting to maintain the lakefront's rugged, wild landscape.

Te Ara Wānaka - a shared pathway for pedestrians and cyclists that connects Wānaka's Town Centre with the Marina.

A boardwalk running along the lake's edge. View Concept Plan #1 and Concept Plan #2.

Informative signage - highlights of the area's significance to Kāi Tahu, and details of native plant and animal life found nearby.

Improved landuse - improvement of lawn areas to allow for recreation activities.
Construction is estimated to conclude in August 2021.
Road closures
For the project to be completed safely and in a timely manner, we have allowed for the closure of Lakeside Road to southbound traffic between the Marina and Monley Lane, with a detour in place via Lismore Street and Hedditch Street. Access will be maintained for northbound traffic, and access to properties will remain available from the Ardmore Street roundabout. A separate piece of work will begin on Monday 10 May, which includes the formation of a new 1.5m footpath on the eastern side of Lakeside Road and a new crossing location.
The closure to southbound traffic will be in place 24 hours a day. The speed limit around the work site will be reduced from 40km/hr to 30km/hr.
These temporary changes are estimated to conclude in August 2021.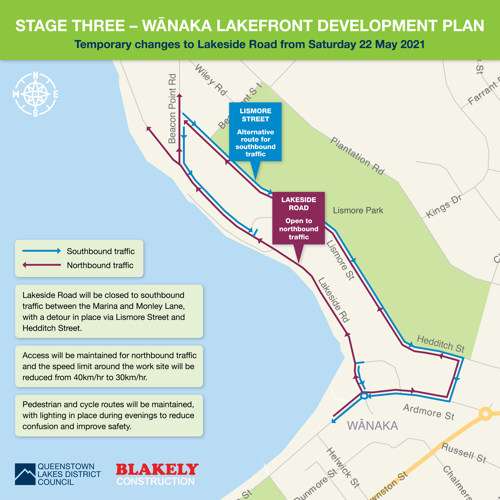 Pedestrian access
Pedestrian and cycle access will be maintained along the lakefront between Bullock Creek and the Marina while the project is underway and safety lighting will be used at night to clearly demarcate pathways from the work site.
Spring access
Access to the spring in this area will continue to be available during construction of Stage Three.  However, parking availability will be reduced.  We apologise for any inconvenience caused during this time.