Luggate Memorial Centre
To read the latest media releases on this project click the links below:
Construction Works Begin
Following a lengthy design period to make sure we have a fit-for-purpose, Passive House-certified community centre for the Luggate and wider Upper Clutha communities, physical works began on 31 May 2021. This started with the de-construction of the Luggate Memorial Hall, closed since 2017 after being declared earthquake prone. We'll be salvaging some elements from the Hall for re-use in the new centre.
Following this, construction of the new Luggate Memorial Centre began early July 2021 and is expected to be completed in 2022.
A first for QLDC, the project is using a panelised construction methodology. Pre-fabricated building panels, manufactured at the Hector Egger factory in Cromwell, were fully erected within two weeks of arriving on site. The main contractor on the project is Breen Construction, who are overseeing both the de-construction of the old hall and the building of the new centre.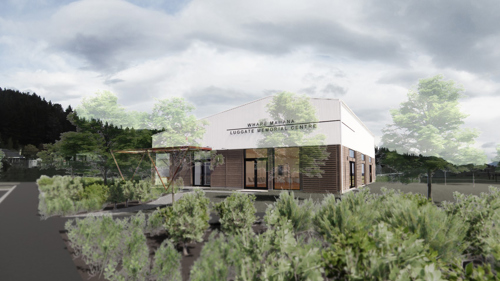 History & Background
Since Luggate Memorial Hall closed in 2017, we've been working closely with the Luggate and wider Upper Clutha community to plan for an innovative, future-proofed replacement community centre that will meet current and future needs of Luggate, the Upper Clutha and wider district. 
This centre is a test case for future community facilities in the Queenstown Lakes District, and will be potentially the first Passive House-certified community facility here in Aotearoa New Zealand. 
Architectural concept drawing of Luggate Memorial Centre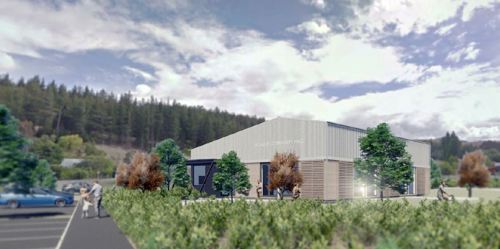 Removal of Temporary Hall
On 15 October 2021 the team worked to remove the temporary hall and then proceeded to continue construction on the Luggate Memorial Centre. Check out how they got on via the timelapse recorded below.


QLDC is grateful to the following organisations for their support in funding Luggate Memorial Centre:


Watch local voices explain why a new community space is so important for Luggate after the Memorial Hall had to close after failing a seismic assessment. This video was filmed in November 2018 and used to successfully obtain grant funding from local trusts.
What is Passive House?
The Passive House approach is focused on achieving healthy and comfortable buildings, that also consume very little energy. A lot of thought goes into the energy flows of the building, the orientation and shading, insulation, airtightness, ventilation and the performance of the windows and doors. QLDC's project team went through a lengthy design process to make sure our new Memorial Centre will pass the stringent Passive House certification process.
This will ultimately mean a comfortable space for meetings, events, and casual use, that will have a lower operating cost and environmental impact over the buildings life, compared to a normal build. You can read more about Passive House on Passive House Institute NZ's website: https://passivehouse.nz/
The goals of the project are to provide a space which:
is a focal point for the community heart
is a smart and viable solution for a growing community
offers a healthy, comfortable environment to help foster vibrant communities. 
---
Project Timeline
Est. 1954 – Luggate Memorial Hall built.
March 2017 – Seismic assessment conducted.
August 2017 – Hall closed for safety reasons.
Sep-Oct 2018 – Passive House option considered.
November 2018 – Indicative Passive House modelling completed.
December 2018 – QLDC Community Facility research report.
Early 2019 – Procurement process started.
September 2019 – Design team appointed and design process underway.
November 2019 – Luggate Community Centre opened as interim facility.
October 2020 – Detailed design process completed.
June 2021 – Demolition of existing hall.
July 2021 – Construction of new hall to begins.