Aqua Fitness classes
Our range of aqua fitness classes at Alpine Aqualand (Queenstown Events Centre) and Wānaka Recreation Centre are a great way to have fun and keep active, regardless of your age or swimming ability.
Please note - we are closing the pools from 7.30pm during term 3 (25 July to 30 September 2022). Any classes that start or finish outside this time will not go ahead.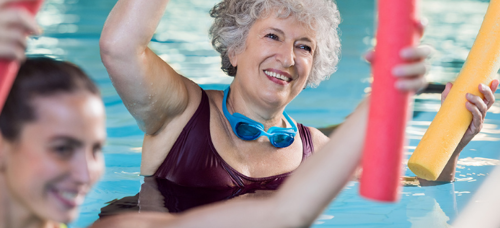 Low impact, full-body workouts strengthen muscles and improves your flexibility without needing to bear weight. They're great if you're recovering from injury.
We offer three classes of varying intensity:
AquaFit 65+: low intensity (Queenstown only)

AquaFit: moderate intensity

AquaHIIT: high intensity.
All aqua fitness classes last 45-minutes and are FREE with your pool entry (or $5.00 for our Queenstown Leisurelys members).
Please note our timetable often changes during school holidays and public holidays. Contact your local pool in advance to double check.
AquaFit 65+ classes at Alpine Aqualand are tailored especially for active seniors. But everyone is welcome, regardless of ability, especially if you don't like early mornings!

AquaFit is a gentle, low impact, full body workout which strengthens muscles and improves flexibility without you needing to bear weight. It's perfect if you're new to exercise, recovering from injury, or for the young at heart.

AquaHIIT is more physically challenging than AquaFit. The 'HIIT' stands for high intensity interval training - a style that uses hard exertion followed by less intense recovery periods.

Close

| ALPINE AQUALAND | TIME | CLASS TYPE | INSTRUCTOR |
| --- | --- | --- | --- |
| Monday | 7.15-8.00am | AquaFit | Carolina |
| Monday | 12.15-1.00pm | AquaFit 65+ | varies |
| Tuesday | 7.15-8.00pm | Aquaboards | Brooke |
| Wednesday | 7.00-7.45am | AquaFit | varies |
| Wednesday | 12.15-1.00pm | AquaFit 65+ | Rachel |

 

| WĀNAKA REC CENTRE | TIME | CLASS TYPE | INSTRUCTOR |
| --- | --- | --- | --- |
| Monday | 8.00-8.45am | AquaFit | Gwen |
| Monday | 7.15-8.00pm | AquaBoards | Gwen |
| Tuesday | 6.30-7.15pm | AquaHIIT | Sarah |
| Wednesday | 8.00-8.45am | AquaFit | Gwen |
| Wednesday | 6.30-7.15pm | AquaHIIT | Sarah |
| Friday | 8.00-8.45am | AquaFit | Sarah |

 

Close