Western Wānaka Level of Service
We're about to start a project to install a new water supply  main and pump station   to improve the level of service for existing and future residents of Western Wānaka.
About the project
What to expect
Any questions?
About the project
We are currently procuring a contractor to complete this project.   The bulk of the construction is expected to start in January 2022 with some minor site establishment works planned ahead of Christmas.
The project includes the  installation of a new water main pipe.  The pipeline route is shown in orange on the map below.  It starts slightly  up Anderson Road, crosses the state highway, heads along Macpherson Street and Golf Course Road.     We will also construct a new  pump station on Wānaka-Mount Aspiring Road.   
This upgrade will improve the capacity and  resilience of  drinking water supply and infrastructure in Western Wānaka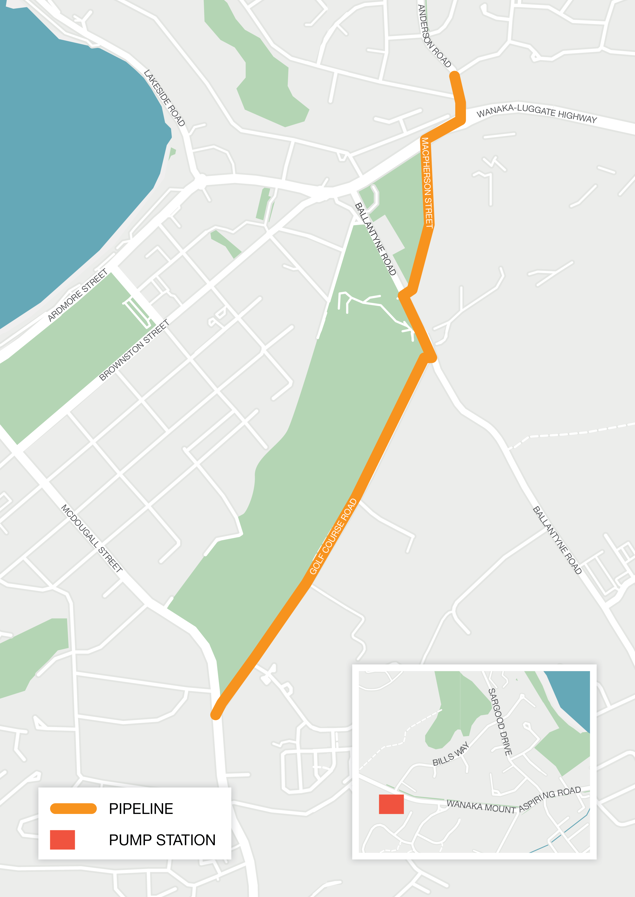 What to expect
As with any large construction project, there will be some disruption while this important infrastructure upgrade is underway.
We are currently working through what these disruptions might be and will keep you updated.  It's likely you can expect requirements for traffic management and reduced speeds to ensure contractors can work safely.     
If you live along the bottom of Anderson Road,  MacPherson Street or Golf Course Road you may experience some noise at times.   We will also need to excavate through some driveways and will  work closely with affected residents  to discuss the impacts and ways to minimise disruption.
At times you may experience some inconvenience with parking and/or access to your property, however, every effort will be made to get the work done as quickly as possible, with minimal disruption. For the period of works access to your property will be maintained, and all access will be fully reinstated after the work is complete.

We'll work directly with anyone who might experience higher levels of disruption and  give you plenty of notice ahead of any planned works. 
Any questions?
If you have any questions at this stage, please give us a call on 03 441 0499 or email services@qldc.govt.nz