Sport 10
Get your mates together for the ultimate all-rounder competition and play a different sport each week for ten weeks  - basketball, volleyball, dodgeball and more!
Wanaka's Sport 10 league kicks off in January 2022! See below for more information and to book your place.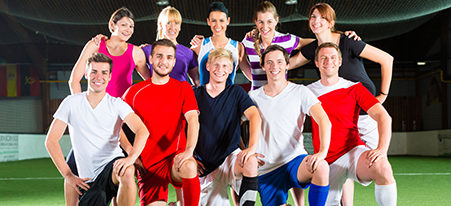 Social leagues run at different times through the year at both Queenstown Events Centre and Wānaka Recreation Centre.
When does it run?

The next Wānaka Sport 10 league starts 24 January

 

Who's it for?

Ten players per team (subs allowed)

Mixed teams - at least two women must be on court at all times 

Ages 16+.

 

Where is it based?

 

How much does it cost?

$500 per team

All gear provided.

 

How do I book?

Download a booking form or drop by reception at Wānaka Rec Centre once bookings open.

 

How do I find out more info?

For all queries relating to council-run sports leagues at Wānaka Rec Centre please contact Penny Batchelor:

03 441 1767

 

Close

When does it run?

The next Queenstown Sport 10 league starts late 2022

Who's it for?

Ten players per team (subs allowed)

Mixed teams - at least two women must be on court at all times 

Ages 16+.

 

Where is it based?

Inside at Queenstown Events Centre (QEC).

 

How much does it cost?

$500 per team

All gear provided.

 

How do I book?

Download a booking form here or visit QEC reception when bookings open

 

How do I find out more info?

For all queries relating to council-run sports leagues at QEC please contact Alexa Peters:

03 443 4791

 

Close