Fiona Gallagher - 'Sport has shaped me and it has saved me'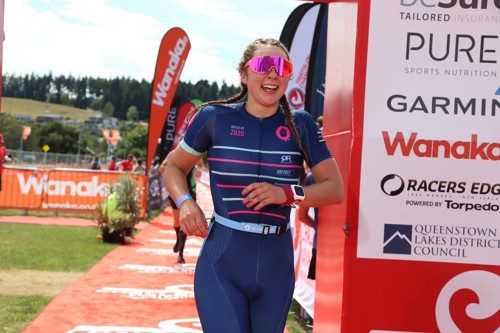 I'm Fiona. That's me smiling away in the picture. You might not think it, but I have my dark days. Days where I don't want to get out of bed. I have days where I'm so overcome with anxiety that I can hardly look anyone in the eye - and my confidence levels are often so low they're non-existent.
Sport has shaped me and it has saved me. I feel extremely lucky to have been involved with sport for most of my 27 years - it has connected me with the most amazing and inspiring people, and taught me so much about what I'm capable of. When I'm taking part in sport - whether it's 20 minutes playing badminton with friends, or 5 hours on my road bike training for an Ironman, sport lifts my confidence and reminds me to focus on the amazing things my body can do, instead of picking out the things I think it can't.
I think as I've got older I've realised how important it is to me, to take the time for sport. I know I'm guaranteed to feel better afterwards. It gives me a chance to free my mind from worries, it's the time I disconnect and I'm not distracted by the busy world, my biggest fears and worries are no longer clouded over me, and the little demons in my head I hear so often have gone away. It's just me and my time to appreciate being alive. And afterwards there's this lingering commitment to only worry about what I can control. That's the best way I can find to explain it.
I thrive off hard work, sport is one of my biggest passions in life, and I enjoy pushing my limits. That said, I need the easy work too. Sport is where I am my best self. It's where I feel my most confident and relaxed. It's where I get a huge sense of accomplishment and it's that accomplishment that helps me realise that I am worthy. I am allowed and entitled to an amazing life.
Irrespective of the level you're at, and what you're capable of, sport is a connector and a saviour. When it comes to sport there is no avoiding meeting people with the same interests as you - even if your sport is a solo one. Each step outside can change your life for the better.
For me, sport has brought me from my darkest moments and shown me the brilliance that life has to offer. Good people are everywhere, we're a community, and in sport you're never alone. Speaking out about mental health is hard, so first, try stepping out. Next, observe the opportunities it presents you - not only to notice what you're worth and what you're capable of, but to share this crazy, temporary experience of the world with people who like the same things you do.
In the past I've been quiet, but I've learned to speak up. I get those dark times, but I've found the easiest and most uplifting way to bring back the light. For me it's sport.
"You don't have to be great to start - but you do have to start to be great."